The Man And His Orchestra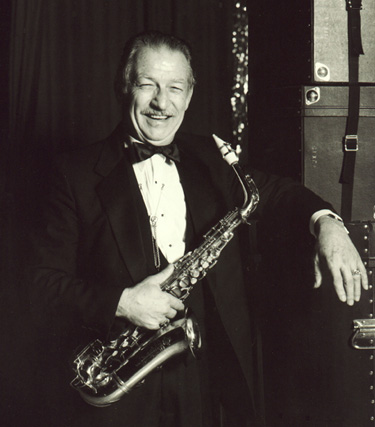 The son of a professional musician, Ted Herman grew up as part of a musical family in Stockton, California. He played his first professional job at the age of 13 and music has been his life's work ever since.
Ted Herman studied music at the University Of The Pacific in Stockton, then later at the Army School Of Music. After military service he worked with Stan Kenton and Boyd Raeburn, toured with Louis Armstrong and Nat King Cole, did studio work at Paramount Pictures then returned to his home town where he started his own band with the "Hermanaires", five vocalists including his wife, Fran.
In 1963 the Hermans went to the Reno - Lake Tahoe area where Ted worked with Billy Eckstine at Harrah's and later at Harvey's remaining there for twenty years as bandleader and contractor playing for some of the most important headliners in show business.
When most Nevada showrooms began using pre-taped music,Ted relocated to Hemet where he worked in local bands as well as commuted to engagements in the Palm Springs area. In 1988 he moved to the desert permanently and put together a band made up of the finest local musicians......... a band which has been in demand ever since.
Having worked with or accompanied the biggest names in entertainment such as Harry James, Louis Armstrong, Count Basie, Henry Mancini, Nelson Riddle, Sammy Davis, Jr., Frank Sinatra, Barbra Streisand, Elvis Prestley, and Lisa Minelli, Ted brings his expertise as a Bandleader / Conductor to any show, dance or other musical extravaganza. He hand picks only the most experienced, professional musicians, many whom are well-known themselves and several are listed in Leonard Feather's New Encyclopedia Of Jazz and the Grove Dictionary Of Jazz. These gifted players include: Alex Roseff, saxophone, (Harry James); Don Smith, trumpet, (Les Brown, Ann Margret); Bob Summers, trumpet, (Count Basie, Maynard Ferguson, Buddy Rich); Dave Tull, Drums, (Maynard Ferguson, Jack Sheldon). Other great jazz players such as Conti Candoli (trumpet), Jack Sperling (Drums), Gordon "Whitey" Mitchell(Bass), and Abe Most, (clarinet), play on some of the Ted Herman Orchestra's performances.
Bandleader Extraordinaire Ted Herman can provide from one to any given number of musicians, but has special arrangements and music libraries for seven, nine, and fourteen piece orchestras, as well as necessary uniforms, stands, and access to state-of-the-art lighting and sound equipment.
Ted Herman has recently released his new CD and cassette tape entitled "Ted Herman Plays the Golden Years Of Big Bands", featuring vocalist Mike Costley. 14 great big band arrangements played by this great swing orchestra in digital stereo. The CD or cassette tape is available at the Fantasy Springs Casino Gift Shop, The Ted Herman Web Site, or from Ted Herman directly. Ted and his orchestra have also recently recorded CD's with The Sunnysiders, Mike Costly, and Herb Jeffries.

Contact Ted Herman At (760) 774-7459

Ted along with Palm Springs area pianist Steve Berliner have created and all valley youth jazz big band with some of the best young talents in the Coachella Valley. Below is and article from the Desert Sun News Paper and Next Magazine that tells the story of this great effort to keep the music of yesterday alive with todays young players.



[Upcoming Concert Dates Prerss Here] [About Ted Herman]
[The Boys In The Band] [Ted Herman Orchestra's CD] [Ted Gets A Star] [Ordering Form For CD]
[Pictures Of The Ted Herman Orchestra] [Sound Clips Press Here] [Email Ted Herman]